Chapter 9: Field Guide
Chapter 9: Field Guide
#
We've come a long way, and you should be proud. I did my darndest to make the content and Exercises helpful and fun, but there is no denying that the material is thick. I suspect you feel a mix of overwhelmed and exhausted, all of which is normal.
Web development, especially in the last 5+ years, has blown up and the content along with it. There is a lot to learn, and honestly, you can't learn it all. So that begs the question, what do you do next, and where do you go from here; how can you get a job as a Web Developer?
As the title of this book suggests, this is a field guide to web development. This book alone and its content may not get you far enough along to get a job. It does, however, get you on the most direct path to get one.
Having made it through to the last chapter, you now have the information and skills to make an educated decision about the next step; and honestly, that puts you ahead of most. Even for folks completing a computer science degree or going into a "coding bootcamp," unless they have taken the time to understand what the field of web development looks like they may not be adequately prepared to decide that next step. You are.
In this last chapter, as promised, I will not be introducing any new content or Exercises. Instead, we have created a How to Become a Web Developer Field Guide (called "Field Guide" from here out). This Field Guide is a printable 11X17 PDF that can be downloaded similar to the code examples. It's under the folder "9-field-guide". I would encourage you to either bookmark or print this Field Guide if you're the poster sorts.
The remainder of this chapter takes each major content area, illustrated as a "trail-post" and discusses the four following areas:
Skill Level: The amount of skill you should have for a particular topic. Keeping with the theme of a "field guide," I use universal trail markings to indicate the recommended skill level.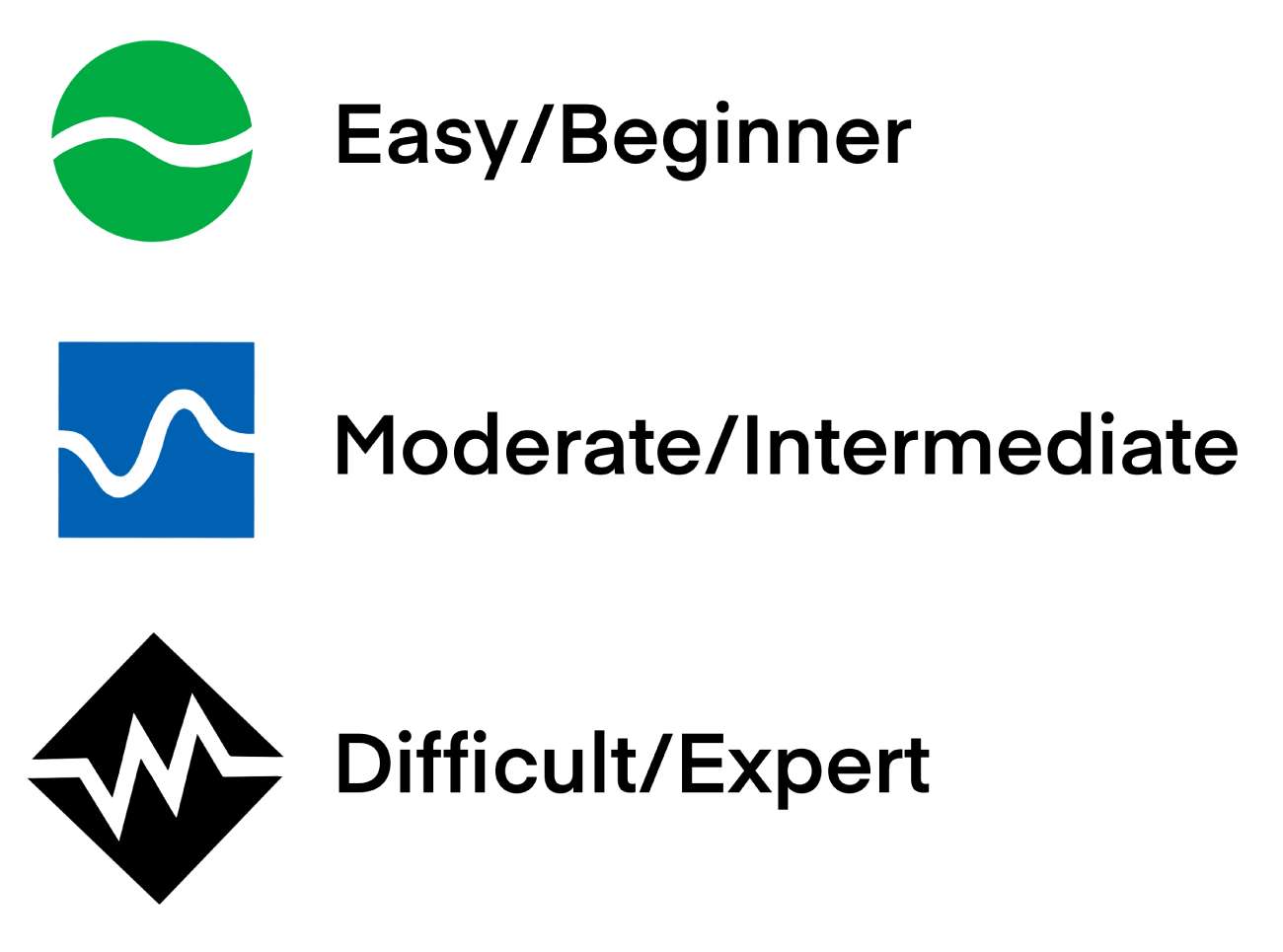 Project Suggestions: I am suggesting that you do a project for each of the topics covered by a trail-posts.
I know I have already had you do a lot of project-like Exercises. And in some cases, you may feel that you have adequately covered the topic. But the reality is, learning happens while doing things. You will make mistakes and problem solve questions you didn't even know to ask. It is during these struggles that you solidify what you've read and studied.